Listen in to win a free four pack of tickets to MONSTER JAM in Peoria each morning, starting October 15th, 2018.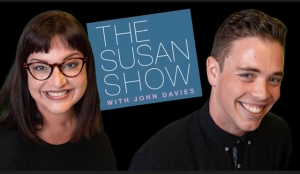 Susan Saunders and John Davies have a brand new game to wake you up with, it's called "WHOSE HISTORY IS IT??"
Listen between 6am-9am each morning for them to solicit the 5th caller at (309) 828-1015 to play the game.
Susan and John will recite 5 of their recent personal phone history entries. The caller must choose Susan or John as to whose history entry it is.
(Or just be a really enthusiast participant)
ONLY ONE WINNER, 18 years of age or older PER HOUSEHOLD PLEASE.
Monster Jam Peoria Civic Center October 19 – October 20
Monster Jam® is adrenaline-charged family entertainment providing jaw-dropping displays and gravity-defying feats that promises to always leave fans entertained. Monster Jam events feature some of the most recognizable trucks in the world including Grave Digger®, Max-D, El Toro Loco® and many more. Our world-class drivers push these perfectly engineered Monster Jam trucks to their limits in Freestyle, "2-Wheel Skills" and Racing competitions that will put families on the edge of their seats and leave them craving more of this unexpected, unscripted and unforgettable event!
Buy your tickets by clicking HERE!