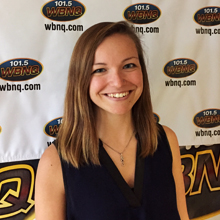 Hello there! I'm a small town girl from Dalton City, IL. Population: 500. I grew up there going to school in Mt. Zion. Once I turned 14 I moved to Mt. Zion with my mom. My senior year of high school I went through a program which gave college credit called "Tech Academy". I decided to go with the broadcasting class. The course mostly focused on television broadcasting but I went to a radio station to record an advertisement for the program and fell in love with the environment and the people.
Once I graduated in 2012 I decided to go to Richland Community College in Decatur, IL. I couldn't decide what I wanted to do. So I decided to work on getting my general education stuff out of the way. I loved music and wanted to do something with it but I just couldn't figure out what. Then I thought about broadcasting and how I love to entertain people. That's it! I could be a part of a radio station!
I began looking at schools after my Associates and I decided Illinois State University would be amazing with the student run radio station and my brother-in-law went there and worked for TV-10. He really enjoyed the experience. My senior year at ISU I decided to take part in the radio station 103.3 WZND. I became a DJ for Sundays. I also was a University Teaching Assistant and helped students in the Intro to Radio course. I graduated with my Bachelor's in May 2016 and from there I applied to every radio job known around the Bloomington/Normal area. I got a call back from Cumulus and couldn't believe I was offered such an amazing job. Being an on-air personality once again! I feel honored to be working for such a spectacular station.
In my free time I love to read. Harry Potter, Hunger Game series, etc. I also twirl baton which is going on 12 years. I also love to hang out with my bunny, Gnar. He is my best friend. I even go home sometimes to visit my cats, Gracie and Red, my dad's dog, Sadie, and even see my amazing family.