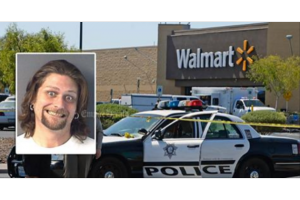 41 year old Martin Klein was arrested after he experienced shopping lifting gone wrong in Las Vegas. Mr. Klein and his partner, Jerry Weis, had stolen several grocery items from the Las Vegas Walmart.
Reportedly, Martin and Jerry went "shopping" at approximately 11 A.M. and headed towards the breakfast food aisle, because who doesn't love shopping for Breakfast. Both guys had taken several cans of Pillsbury Cinnamon Rolls from the aisle and headed towards the bathroom. According to security cameras, Martin and his partner entered the restroom and hung out for nearly 20 minutes before exiting.
"I had went to the bathroom to wash my hands when I heard a man in one of the stalls moaning. I had no idea what was happening. I washed my hands and went back to my station in the deli department," said Johnathan Peterson, an employee of the store.
Soon after Martin was approached by Walmart Security after they noticed the two men enter the restroom, Martin told his partner to find his mother in the front of the store. The security then preceeded to ask him to show him the items you'd taken into the restroom, after Martin denied the allegations, he walked away to meet up with his partner. Security followed him as he met up with the other person he was in the restroom with. Michael Jones, a security guard at Walmart said, "I grabbed Mr. Klein and that's when his friend squeezed KY Jelly in my face. KY got all in my eyes and on the floor. I attempted to grab Mr. Klein and that's when both of us fell. I fell on top of him and that is when I heard a loud popping noise. Mr. Klein screamed loudly and then fluid started running from his backside. It was so disgusting but at least I caught the suspect."
Both men are being held on a $3000 bond. Word to the wise, shop smart and don't shop lift.