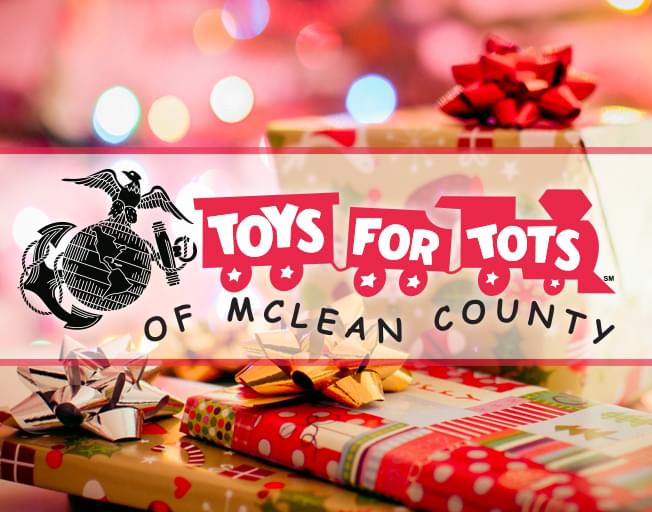 Each year Toys for Tots of McLean County collects and distributes toys to thousands of children in need in our area.
Toys of Tots knows that no child deserves to wake up on Christmas morning without a toy under their tree and we are asking for your help this holiday season to make it special for the kids in McLean County.
WBNQ is asking our listeners to help Toys for Tots of McLean County collect donations of new, unwrapped toys for the kids in our area. With several ways and places to give, there something for everyone to participate in.
How to donate:
Join WBNQ at Farm & Fleet on Thursday, December 2nd from 4-6pm as we stuff the WBNQ van full of toys!
Visit one of the many locations in town (listed below) with donation boxes to drop off a new, unwrapped toy
Give a monetary donation online by

CLICKING HERE

Visit

Denny's Doughnuts & Bakery

and order a coffee cake – a portion of the proceeds will be donated to Toys for Tots of McLean County

Flavors: Cream Cheese Cinnamon Pecan, Caramel Pecan, Cherry, or Blueberry
In 2020, Toys for Tots of McLean County was able to distribute 16,952 toys to over 4,642 kids!
The 2021 "Nothing Stops the Claus" campaign runs November 1st through December 13th. The donation locations in Bloomington-Normal are:
| | | |
| --- | --- | --- |
| Action Wellness | 2406 E. Washington | Bloomington |
| American Legion | 2720 E. Lincoln | Bloomington |
| Artful Designs | 502 N. Prospect Suite 24 | Bloomington |
| Blain's Farm & Fleet | 2201 W. Market St. | Bloomington |
| Blair House | 1200 E. College | Normal |
| BloNo Pizza Co | 1304 Cross Creek Dr. | Bloomington |
| Bloomington Downtown Development Specialist | 115 E. Washington Suite 302 | Bloomington |
| Bloomington Fire Dept. – Station 1 | 310 N. Lee St. | Bloomington |
| Bloomington Fire Dept. – Station 2 | 1911 Hamilton Rd. | Bloomington |
| Bloomington Fire Dept. – Station 3 | 2301 E. Empire | Bloomington |
| Bloomington Fire Dept. – Station 4 | 1705 S. Morris Ave. | Bloomington |
| Bloomington Fire Dept. – Station 6 | 4040 E. Oakland Ave. | Bloomington |
| Bloomington Police Dept. | 305 S. East St. | Bloomington |
| Bloomington Public Library | 205 E. Olive | Bloomington |
| Boyle Dental | 1730 Bradford Ln. Suite 165A | Normal |
| Bridgestone/Firestone OTR | 1600 Ft. Jesse Rd. | Normal |
| Brookridge Heights Apartments | 3102 E. Hamilton Rd. | Bloomington |
| Busey Bank | 1111 S. Veterans Pkwy | Bloomington |
| Busey Bank | 2101 N. Veterans Pkwy | Normal |
| Carl's Pro Brand | 1806 E. Empire | Bloomington |
| Casey's General Store | 202 E. Franklin | Hudson |
| City of Bloomington – City Hall | 109 E. Olive | Bloomington |
| Clay Dooley | 1507 E. Vernon | Bloomington |
| Coldwell Banker | 304 N. Hershey | Bloomington |
| Dollar General | 1209 Towanda Ave. | Bloomington |
| Dollar General | 1100 S. Cottage | Normal |
| Edward Jones Investments | 408 E. College Suite A | Normal |
| Feese Homes | 102 E. Cemetery Ave. | Chenoa |
| Ferrero Plant | 2501 Beich Rd. | Bloomington |
| Four Seasons Club #1 | 904 Four Seasons Rd. | Bloomington |
| Four Seasons Club #2 | 2401 Airport Rd. | Normal |
| Fox & Hounds Salon & Spa | 200 W. Monroe | Bloomington |
| Gailey Eye Clinic | 1008 N. Main | Bloomington |
| Health Markets | 202 S. Elderado Suite B2 | Bloomington |
| Heartland Comm. College – Veterans Center | 1500 W. Raab Rd. | Normal |
| Hudson Fire Dept. | 502 N. Broadway | Hudson |
| ISU | Registrar Office | Normal |
| ISU | Alumni Center | Normal |
| ISU | Nelson Smith Building | Normal |
| ISU | Uptown Crossing Building | Normal |
| ISU | Milner Library | Normal |
| ISU | Facilities Management | Normal |
| ISU | Degarmo Hall 3rd Floor College of Education | Normal |
| ISU | Hovey Hall | Normal |
| ISU | Office of Residential Life | Normal |
| Ironwood Gardens Apartments | 2000 N. Linden St. | Normal |
| ISU Credit Union | 1309 S. Center | Normal |
| ISU Credit Union | 1408 Airport Rd. | Bloomington |
| Jewel-Osco | 901 S. Cottage | Normal |
| Jewel-Osco | 2103 N. Veterans Pkwy | Normal |
| Jewel-Osco | 2203 E. Oakland | Bloomington |
| Kroger | 1550 E. College | Normal |
| L.A. Fitness | 2103 N. Veterans Pkwy | Normal |
| Lucca Grill | 116 E. Market | Bloomington |
| McBeath Financial Services | 203 Landmark Suite A | Normal |
| McLean County Clerk | 115 E. Washington Rm. 102 | Bloomington |
| McLean County Orthopedics | 2005 Jacobsen Dr. | Normal |
| McLean County Sheriff's Dept. | 104 W. Front | Bloomington |
| Menards | 900 Greenbriar Dr. | Normal |
| Monical's Pizza | 718 S. ElDorado | Bloomington |
| Monical's Pizza | 2103 N. Veterans Pkwy | Normal |
| Monical's Pizza | 1219 S. Main St. | Normal |
| Moose Lodge #845 | 614 IAA Dr. | Bloomington |
| Normal Fire Dept. – Station 1 | 606 S. Main | Normal |
| Normal Fire Dept. – Station 2 | 1300 E. College | Normal |
| Normal Fire Dept. – Station 3 | 1200 E. Raab Rd. | Normal |
| Normal Police Dept. | 100 E. Phoenix | Normal |
| Orange Leaf | 115 Krispy Kreme Dr. Suite 4 | Bloomington |
| Pheasant Lanes | 804 N. Hershey | Bloomington |
| Prairieland Federal Credit Union | 416 N. Kays Dr. | Normal |
| Red Raccoon Games | 309 N. Main St. | Bloomington |
| Ryder Truck | 2001 Eagle Rd. | Normal |
| Sam Leman (Chevy, Chrysler, BMW, Mazda, Toyota, Ford) | | Bloomington |
| Schooners | 810 E. Grove | Bloomington |
| Scribbles Center for Learning | 1415 Woodbine Rd. | Bloomington |
| Shannon's Five Star Restaurant | 1305 S. Mercer | Bloomington |
| Shooter's Lounge/Ride the Nine | 503 N. Prospect | Bloomington |
| Shorty's Barber Shop | 205 W. North St. | Normal |
| State Farm Agent Abby Spachman | 405 N. Hershey Suite 5 | Bloomington |
| State Farm Agent Jim Spachman | 2501 E. College Suite A | Normal |
| State Farm Agent Mike Wehrenberg | 3004 GE Rd. Suite 2 | Bloomington |
| Stout Chiropractic | 214 S. Linden St. | Normal |
| Team Automotive | 1223 S. Adelaide | Normal |
| The Foehr Group | 107 S. Prospect Rd. | Bloomington |
| The Ultimate Tan | 503 N. Prospect | Bloomington |
| The Ultimate Tan | 604 Dale | Normal |
| The Villas of Holly Brook | 1815 N. Towanda Barnes Rd. | Bloomington |
| UPS Store | 1701 E. Empire Suite 360 | Bloomington |
| USMC RSS Bloomington | 314 S. Towanda Suite 312 | Normal |
| VFW Post #454 | 1006 E. Lincoln | Bloomington |
| Walgreens | 1502 Ft. Jesse | Normal |
| Walgreens | 909 S. Main St. | Bloomington |
| Walgreens | 1408 N. Main St. | Bloomington |
| Walgreens | 2611 E. Oakland Ave. | Bloomington |
| Walgreens | 1525 N. Veterans Pkwy | Bloomington |
| Walgreens | 505 W. Raab Rd. | Normal |
| Walkers Tae-Kwon-Do | 1301 Morrissey | Bloomington |
| Western Tap | 1301 N. Western | Bloomington |
| Windjammer Lounge | 2303 Stern Dr. | Bloomington |