Wake Up With The Susan Show and Listen for the Jingle Bell Sounder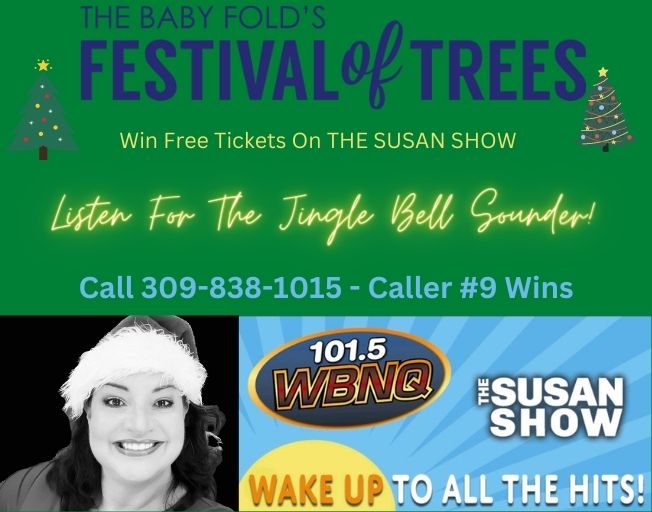 Now in its 29th year, this incredible event filled with hundreds of sparkling holiday items, is a family-friendly, community tradition that will get you in the Christmas spirit!
Win Free tickets starting Monday November 14th between 6am and 10am during THE SUSAN SHOW. Listen for a Jingle Bell Sounder and Susan to tell you to start dialing, as caller #9 wins 4 free entry tickets into the festival!
More details and rules on the WBNQ.com/wbnq-Contest-Rules
The Baby Fold's Festival of Trees is central Illinois' premier holiday extravaganza to kick-off the holidays at the Interstate Center! See the gorgeous display of Christmas trees, festive wreaths, gingerbread creations, holiday centerpieces and more!
Bring the family out for a delicious meal and live holiday entertainment and don't forget to place your best bids on over 600 hand-crafted holiday decorations in an online auction .
Purchase tickets today and get in the spirit of the season at The Baby Fold's Festival of Trees!
>>>>>>>>>>CLICK HERE<<<<<<<<<<<<
With in-person and online participation options, you can browse the gorgeous décor and bid on or purchase Christmas trees, wreaths, centerpieces, gift baskets or gingerbread homes and more in our huge silent auction, featuring convenient mobile bidding. 100% of the proceeds support the health and well-being of over 1200 local children and families served by The Baby Fold. Convenient curbside pick-up is on Sunday Nov 20th.
The Baby Fold's Festival of Trees schedule overview:
November 17 – Festival of Trees open at the Interstate Center 4:00 PM – 8:00 PM
November 18 – Festival of Trees open at the Interstate Center 9:00 AM – 8:00 PM
November 19 – Festival of Trees open at the Interstate Center 9:00 AM – 8:00 PM
November 19 – Mobile bidding ends at 8:00 PM
November 20 – Auction Item Pickup for auction item winners 12:00 PM – 3:00 PM