10 locations that Susan personally recommends to help you stay local this holiday season!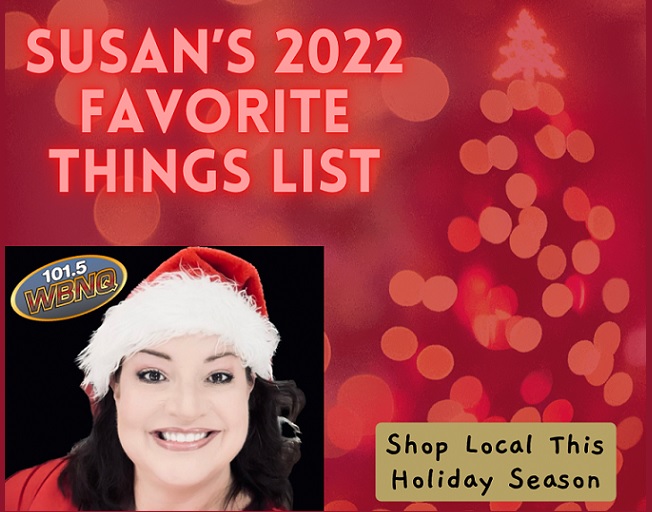 Ten Bloomington Normal locations have made it to "Susan's Favorite Things" list for 2022!
Each stop includes unique gift ideas from local vendors in a variety of prices and needs.
Use the hyperlinks in the shop's name for links to each location's website and physical address, plus you can watch the guided tours Susan created for you for each spot here and on WBNQ Facebook and WBNQ Instagram as they are revealed one by one a day-leading up to SMALL BUSINESS SATURDAY!
Thank you for shopping locally this holiday season, on average $65 of every $100 spent when shopping locally stays within our community.
1) MOES SOUTHWEST GRILL-2401 East Empire Street, Bloomington &1730 Bradford Ln, Normal.
Click HERE for the FB Video Tour of meal kits, catering, gift cards and more!
2) Uptown Gifts and Accessories 114 W North St, Normal.
Click HERE to take a tour of Susan's favorite boutique-inspired gift shop located in Uptown Normal
3) Olive Bin 1520 E College Ave H, Normal.
Click HERE to tour a great purveyor of fine extra-virgin and flavored olive oils and barrel-aged vinegars from Modena. Gift bags, baskets and combo gits are ready for you to grab and go!
4) Apricot Lane 206 W North St, Normal. Trendy womenswear chain featuring modern takes on casual wear & dressy fashions, plus accessories. Click HERE to see Susan's video tour of the store, including styling suggestions from Stephanie!
5) Iron Coyote Challenge Park 4113 Oakland Ave, Bloomington.
Full ninja gym, ninja classes, ropes course, and more. A unique and fun fitness center offering a high-quality, affordable alternative to private gyms. Click HERE for a tour of the fun both kids and adults can have!
6) Crossroads Fair Trade Goods & Gifts 428 North Main Street Bloomington. A Volunteer run, nonprofit retail gift store that will delight everyone on your list! Click HERE for a tour of the wonderful items from around the world you can purchase in your own hometown.
7) Wild Country -203 South Linden, Normal. Scuba Dick and friends are ready to gear you up for any all adventures. Sometimes, that means just being warm enough to not hide indoors all winter. Get ready to explore this big world by first stopping in to shop and Click HERE for a tour!
8) The Original Pinsaria-211 Veterans Parkway #5-Bloomington. An authentic Italian restaurant reinvented in a super fast and casual concept with custom made Pinsa, Pastas, Salads and more!
Click HERE for a delicious tour!
9) Majestic Interior Design -Gift yourself the assistance of designers who can save you headaches and heartaches of interior decorating and interior design and so much more! Click here for a tour and introduction to your new designer friends!
10) Adrian's Shoes– I cant express the full amount of gratitude I personally give to Adrian's Shoes for taking away my foot pain! Yes, you should buy all of your own shoes there, but also explore the many excellent gift they have!
Click HERE for all of your happy feet needs!
You can win gifts from these amazing locations starting Monday November 28th-exclusively on THE SUSAN SHOW. Call in to win!