Rihanna 'Echoes' Karl Lagerfeld Ahead of the Met Gala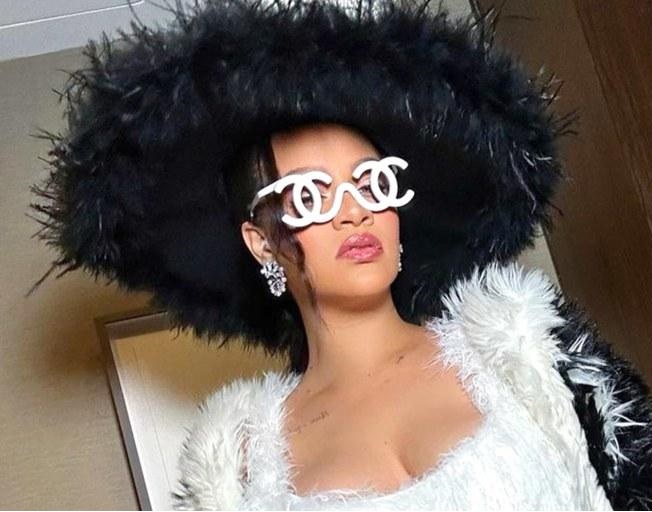 Rihanna revealed a sneak peek of this year's Met Gala, which is paying tribute to the late designer Karl Lagerfeld. Known for his white hair, black sunglasses, and fingerless gloves, Lagerfeld passed away at 85 in February.
The "Umbrella" singer shared photos on social media wearing a white fur dress, black fur bolero jacket, and hat while showing off her pregnancy bump.
The singer wore a fake fur outfit reminiscent of Lagerfeld's 1994 collection for Chanel, paired with white 'C' logo glasses. She captioned the images, "Not even Monday," getting into the event's spirit a day early.
This year's dress code is "in honor of Karl," and guests are expected to choose from the creative director's archive at luxury brands, including Chanel, Fendi, Chloe, and his own self-titled brand.
"The invitation-only gala earned $17.4 million last year for the Metropolitan Museum of Art's Costume Institute, a self-funding department with a budget dependent on the A-list affair. The price of attending went up this year to $300,000 for a table and $50,000 for a single ticket.
This year's five hosts include Wintour, as usual, along with Michaela Coel, longtime Chanel ambassador Penélope Cruz, recently retired tennis superstar Roger Federer and Dua Lipa."
The 2023 Met Gala livestream is being hosted by Vogue. To watch the big staircase entrance parade and more, find the live stream broadcast on the VOGUE YouTube, Instagram, Facebook, and Twitter pages.