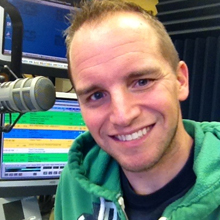 Cody West plays all the hits afternoons 3-7 on 101.5 WBNQ!
I was born in Peoria, Illinois but spent most of my childhood in Dallas, Texas. My family and I eventually found ourselves moving back to Washington, Illinois and calling it home.
When i was in high school, my church youth group director was the Program Director of a radio station in Peoria … I begged him for a job and he hired me. I'm not sure what he saw in me, as i listen to old recordings, but I've had the opportunity to work with some amazing people on a variety of formats and am celebrating 20 years in the business this year.
I met my partner in 2007 and moved to Bloomington in 2009. When we're not working on a remodeling project around the house, doing yard work or spoiling our Mini Goldendoodle and Shepherd mix, we can usually be found running around in uptown Normal or entertaining friends and family on a regular basis.