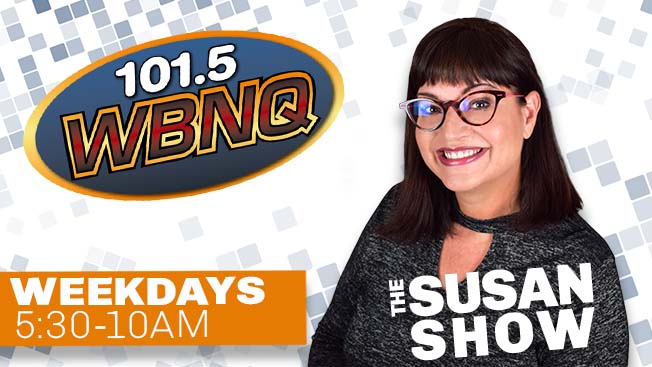 Join Susan Saunders each weekday morning on WBNQ. Get your funny on, win prizes and hear a great mix of all the hits! The WBNQ morning show delivers what you need to start your day in Central Illinois.
Call or text 309-828-1015 to join in the fun on air. Live and local, the way radio should be.
Susan Saunders
I have been working in radio for over 30 years now, (yes, I started in high school–no lie) and I have worked all over this fine country including long stays in Madison, Rockford, Sacramento, Chicago and for the past 25 years here in Bloomington Illinois at WBNQ.
Born and raised on a small farm in Rochelle Illinois, I trained and competed in all the yummy music programs, theater, and speech team from birth through my college years at Northern Illinois University. Radio became the launch pad for so many performance opportunities that I just couldn't let it go. Before I realized it, I was a broadcaster first, and everything else second.
Happily married to touring drummer/home inspector Derek, who did indeed catch my eye on Match.com over 15 years ago. We love traveling to Mexico to scuba dive and we share our Bloomington condo with two cats that love to play fetch.
As to the most commonly asked question: "Why stay in Bloomington so long?"
Ahh the joys of living in a smaller city and working with great radio people. You can't beat that. Plus, WBNQ was one of the first stations in the country to allow a woman(me) to lead their morning show, and for that I am very grateful. Being live and local is always my top radio goal, but being Arbitron ranked number one on the number one rated station has been tasty icing on the cake. Drop me an email sometime to [email protected]!