Tune In To Win Weekdays at 7:10AM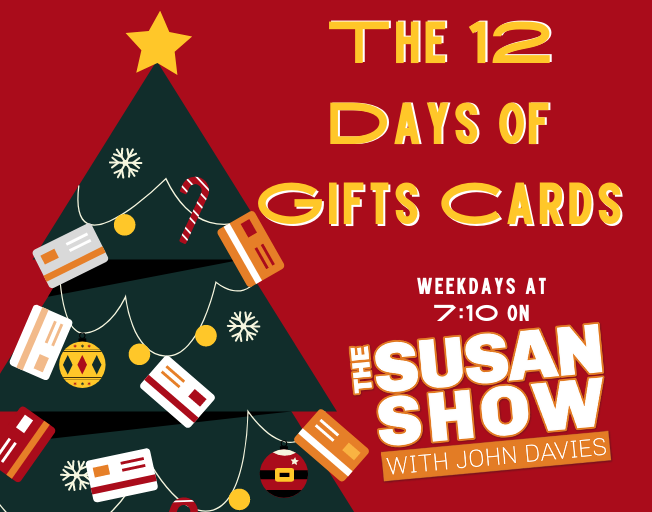 101-5 WBNQ WANTS TO HELP MAKE YOUR CHRISTMAS MERRY AND BRIGHT WITH THE 12 GIFT CARDS OF CHRISTMAS GIVEAWAY!
Your chance to win begins on Monday December 6th, and continues for 12 weekdays (Ends Tuesday Dec 21st, 2021)
Listen for new additions to the remade song of prizes to the tune of The 12 Days of Christmas during the morning show, or check here for the lyrics you missed from the prize providers:
FOX & HOUNDS SALON AND DAY SPA – THE ORIGINAL PINSARIA – RGW CANDY COMPANY – MOES SOUTHWEST GRILL – FORGET ME NOT FLOWERS – THE OLIVE BIN – PARKWAY AUTO LAUNDRY – THE GARLIC PRESS – AVANTI'S ITALIAN RESTAURANT – CASEY'S GARDEN SHOP & FLORIST – DONNY B'S POPCORN

At 7:10am, Susan and John will "Sing" you the current list with the next daily addition. Caller number 5 to the studio contest line- 309 828 1015 – will have the opportunity to "sing the current list" back. Get it right and win that days prize. Fail to correctly name the previously revealed list and the daily prize will roll over to the next contest day.
Players may only play to win "One Day" of prizes, but that prize package may include a roll over of gifts not won the previous day. One contest opportunity each weekday morning until Tuesday December 21st when we will keep playing until one winner gets the entire list recited properly and wins all the remaining prizes.
Your next chance to win happens Monday, December 13th at 7:10 on The Susan Show!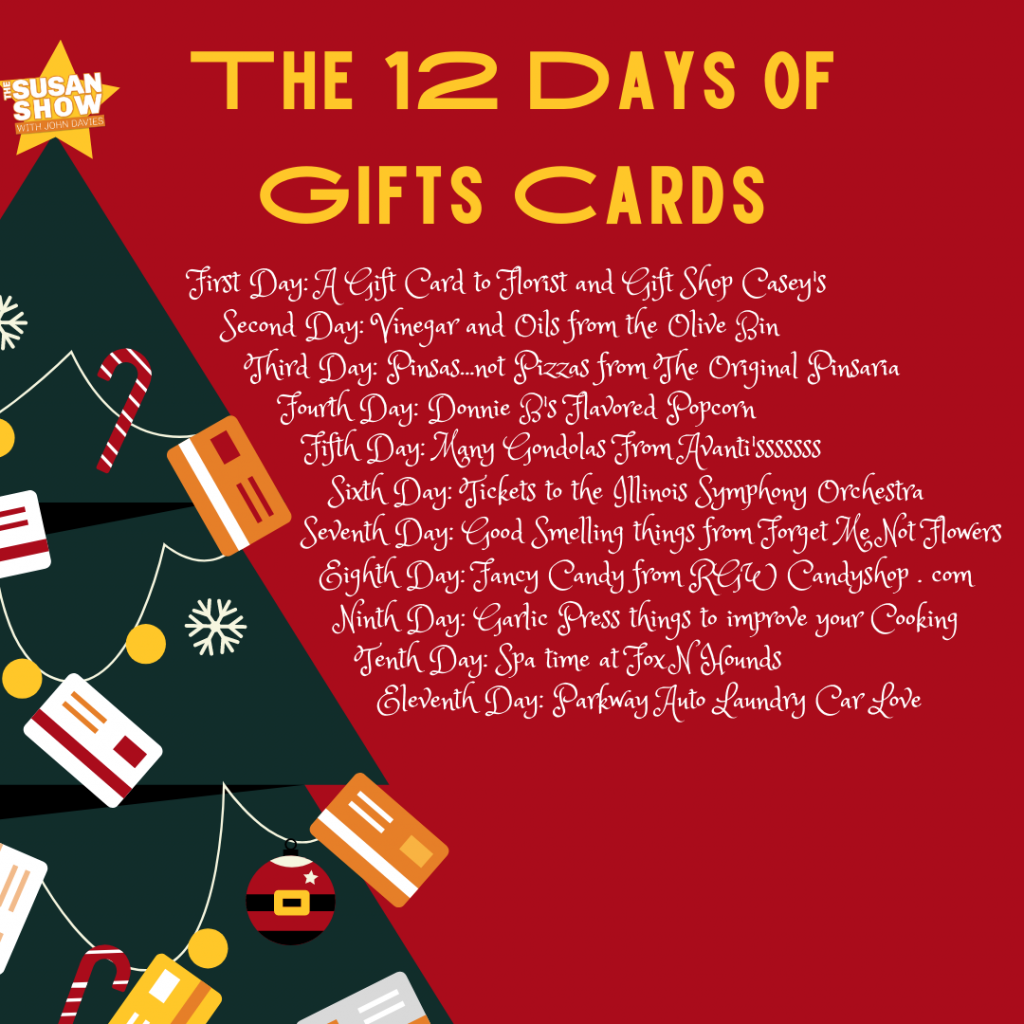 Good luck taking home a great gift we want to give to you!
Merry Christmas and Happy Holidays from THE SUSAN SHOW!!!