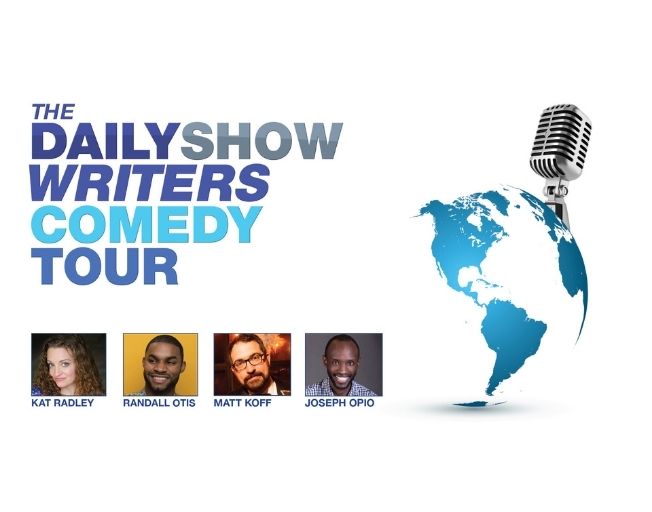 The Daily Show Writers Comedy Tour Coming To BCPA on January 29th
The comics behind the jokes that make you laugh nightly on Comedy Central's THE DAILY SHOW will be at the Bloomington Center For The Performing Arts (BCPA) in Bloomington Saturday, January 29, 2022, at 7:30 PM!
Enter to win through WBNQ Benefits when you click this link! Buzzwords are your friend to win this contest!
Who hasn't heard of The Daily Show? The longest-running program on Comedy Central, this hysterically funny late-night talk and news satire program has won 24 Primetime Emmy Awards since its inception and is popular with audiences both young and old. Now….four brilliant, Emmy-nominated, Daily Show comedy writers have banded together to tour America, featuring comics: Matt Koff, Kat Radley, Joe Opio and Randall Otis. Whether making fun of their failed dating lives, living life as a cat owner or our current politics, The Daily Show writers find comedy everywhere and bring it all to the stage!
KAT RADLEY is a staff writer on The Daily Show with Trevor Noah on Comedy Central, and in 2018 was featured in Glamour Magazine and The Hollywood Reporter as one of the top female writers in late night. Kat has performed standup on FOX's Laughs and her jokes can be heard on Sirius XM Radio, Pandora, Spotify and her debut album on iTunes entitled, The Important Thing Is That I'm Pretty. She has opened for Maria Bamford and headlined SF Sketchfest and the Women in Comedy Festival in Boston.
JOE OPIO is a Ugandan stand-up comedian and writer on The Daily Show With Trevor Noah. In addition to being a trained lawyer and accountant, Joe is an observational satirist whose standup has been seen on three different continents from South Africa through Switzerland to the biggest comedy clubs in New York. Opio has written over 360 episodes of The Daily Show and is a WGA Award nominee.
MATT KOFF is a stand-up comedian and writer for The Daily Show with Trevor Noah. Matt won an Emmy for his work at The Daily Show with Jon Stewart and his standup has appeared on Comedy Central and History. Matt's debut comedy album, Who's My Little Guy, was released on 800 Pound Gorilla Records during the summer of 2019.
RANDALL OTIS is a writer, comedian and actor based in Manhattan, hailing from Florida. He has performed around the country, including the New York Comedy Festival and the New South Comedy Festival (to name a few). Randall has also been featured on VICE, Above Average, AllDefDigital, and The Huffington Post where he was responsible for articles such as "Scientists Discover Another Thing You're Too Stupid To Understand" and "Absence Makes The Heart Grow Fonder and Other Reasons I Abandoned My Family!"
Tickets can also be purchased online at artsblooming.org, by phone at (309) 434-2777 or in person at the Ticket Office located at 600 N. East St., Bloomington, IL.