Tony Bennett has died at age 96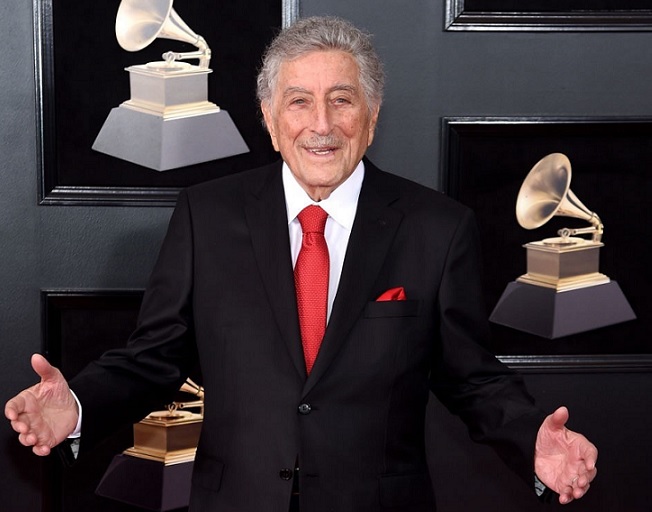 Legendary crooner Tony Bennett died today at the age of 96.
He was just two weeks short of his birthday.
No specific cause of death was given but Bennett had been diagnosed with Alzheimer's disease in 2016.
Mr. Bennett released more than 70 albums, bringing him 19 competitive Grammys, all but two of which he received after he reached age 60. Bennett broke his own record as the oldest living performer with a No. 1 album on the Billboard 200 chart for "Cheek to Cheek," his duets album project with Lady Gaga. The two recorded their first album together in 2014, the pair toured together that year and also the next. Lady Gaga clearly loved Tony, and he appeared to feel the same. She became his number one collaborator and the last time they performed together was during a celebration for his 95th birthday. We all noticed when watching that event, that despite his battle with Alzheimer's, he was still able to command the stage with "hardly a stumble over a single lyric."
Three years earlier, Tony Bennet topped the charts with "Duets II," featuring Amy Winehouse, in what was her last studio recording. 
From APNEWS:
"Long associated with San Francisco, Bennett would note that his true home was Astoria, the working-class community in the New York City borough of Queens, where he grew up during the Great Depression. The singer chose his old neighborhood as the site for the "Fame"-style public high school, the Frank Sinatra School of the Arts, that he and his third wife, Susan Crow Benedetto, a former teacher, helped found in 2001.
The school is not far from the birthplace of the man who was once Anthony Dominick Benedetto. His father was an Italian immigrant who inspired his love of singing, but he died when Anthony was 10. Bennett credited his mother, Anna, with teaching him a valuable lesson as he watched her working at home, supporting her three children as a seamstress doing piecework after his father died.
He studied commercial art in high school, but had to drop out to help support his family. The teenager got a job as a copy boy for the AP, performed as a singing waiter and competed in amateur shows. A combat infantryman during World War II, he served as a librarian for the Armed Forces Network after the war and sang with an army big band in occupied Germany. 
Bennett took advantage of the GI Bill to attend the American Theater Wing, which later became The Actors Studio. His acting lessons helped him develop his phrasing and learn how to tell a story. He learned the more intimate Bel Canto vocal technique which helped him sustain and extend the expressive range of his voice. "
Tony Bennett learned to not become the song, as his idol Sinatra would do, but to let the song speak for itself. This is why composers and fans alike will remember Tony as the best ever.
Susan Saunders 7/21/23