CROCTOBER Kicks Off by Unveiling the Crocs Classic Cowboy Boot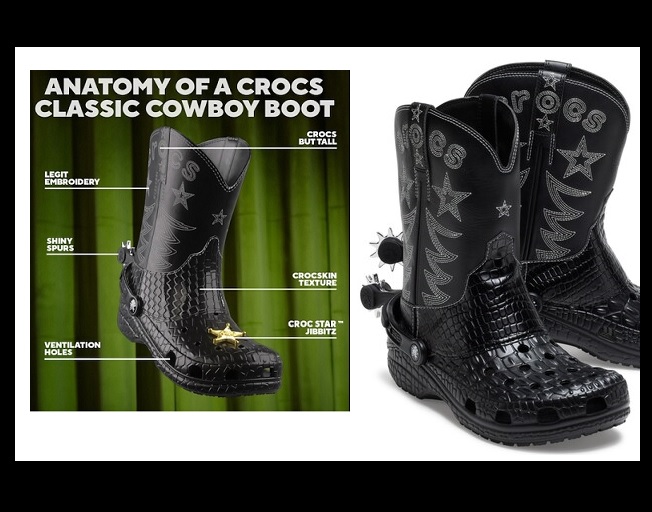 Take a look at the most widely requested Crocs shoe design in brand history – the Crocs Classic Cowboy Boot!
The Crocs company is making fan dreams come true by, turning the Crocs Classic Cowboy Boot into reality and putting it up for sale during the fan created holiday "Croc Day", which is celebrated annually on October 23rd, 2023.
"The Crocs Classic Cowboy Boot features a high shine croc-embossed texture and bold western-inspired stitching. The boot is embellished with unique metallic Jibbitz™ charms and a first-of-its-kind spin-able spur charm attached to the backstrap of the shoe. On the rivet detail, the iconic black and white Crocs logo of Duke, the brand's beloved crocodile mascot, has gone country, sporting his very own cowboy hat."
The Crocs Classic Cowboy Boot will be available on Crocs.com and in select Crocs retail stores beginning October 23 for a limited time. For additional Croctober happenings, fans can follow and use the hashtag #Croctober23.
Susan Saunders 10/9/23